HOMER
*The end of the road*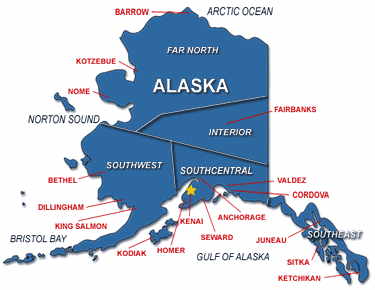 After a 250 mile drive south and west from Anchorage..or taking a 30mi.drive north from Seward and moving west at the Kenai peninsula turn-off, we drive through a lovely jaunt down the Kenai peninsula that ends this road at Homer,Alaska. This is the last stop by car.

This is a most beautiful trip and a favorite of locals and tourists. You go along the big Kenai Lake through forested land with good fishing rivers. There are several big lakes and good campgrounds to stay in or explore along the way. There are great rafting trips down the Kenai river. There are beautiful lodges and cabins on this road and it is a haven for photographers,campers and fishermen. There are float-plane trips and wildlife to view.

This area can get very crowded in summer! Reservations are needed for accommodations.*

You will drive out of the mountains on the Sterling Hwy. and on through the town of SOLDOTNA* on the river. If you turn north for a short jaunt of 11miles,you come to the town of KENAI*. Kenai is the oldest town that you can drive to in Alaska. It was settled by Russians in 1791. The population is about 7,000. It is on Cook Inlet and the station of the Alaskan oil rigs on platforms in the Inlet and oil refinery. This area of coastline is quite near to active volcanos and has been covered in deep ashfall on occasion. It is a haven along the beaches for rockhounds! It's a great place to camp and fish.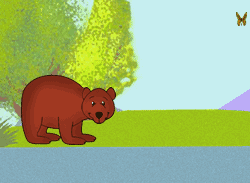 In summer along the streams and rivers, the bears also feed on the salmon..so they get the right-of-way if you're smart!
We must watch as we drive along, as porcupines,moose or wolves,etc. may want to cross the highway!
People like to use snow-machines here in winter.
Residents of this Kenai Peninsula can get cut off from the highway access north to Anchorage during warming spells in winter or spring thaws. It can be a 'bottleneck' to get in or out when the big avalanches come down across the roads leading to Anchorage. The folks living on this peninsula are prepared to survive for a time when this happens. No supplies can get to them at times, so they 'stock up' on essentials when they can. Travel can be quite dangerous in winter snows,ice or avalanche times. You always drive prepared with supplies of food,blankets,warm clothes and emergency gear. It is dark on winter days. Some areas get deep snow. People are always helpful here and share what they have or help travelers when they can.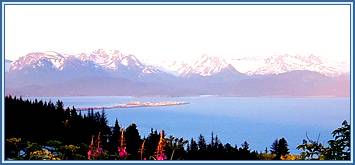 We finally come onto the hilltop overlooking Homer. It is a beautiful view of Kachemak Bay and the beginning of the Aleutian Chain from the Alaska Peninsula.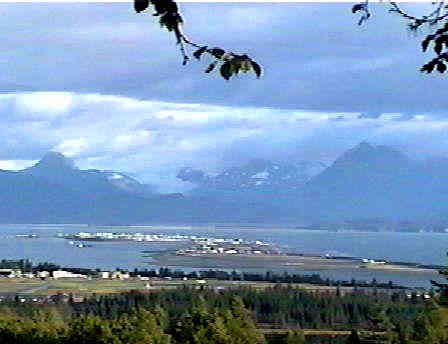 The Homer spit is world famous. It is a 4 1/2 mile land extension out into Kachemak Bay. This is where the boats harbor and there are touristy things and the nice *Land's End Hotel*at the very end of the spit. You can stay right on the beach here. It is no swimming beach,as waters here are quite cold! There are wonderful marine tidepools around this bay.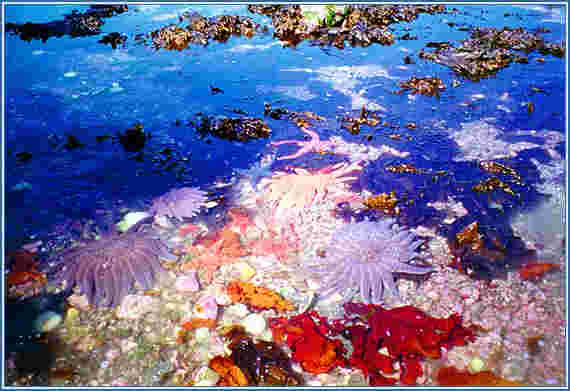 Wildlife,wild flowers and sealife abound in this area. Ancient glaciers and volcanos surround. This area has been inhabited by indiginous people for thousands of years.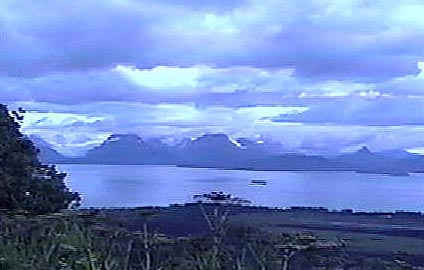 This seaside community has about 4,000 residents and another 8,000 people in surrounding areas. It is a full service town and the U.S.Coast Guard is a vital service here.
In the early 1800s it was the homesteaders and coal miners that made up the population. In early 1900s the coal dwindled and it became a center of commercial fishing and processing. Tourist trade is an added mainstay of today's economy. Homer is a relatively mild climate, compared to much of Alaska.
There are annual Halibut fishing derbys in summer. This is a great Halibut area and the winning catch of 1999 was a 295 pound Halibut! This big fish brought a prize of $30,300!
Bald eagles nest and feed here,especially in winter*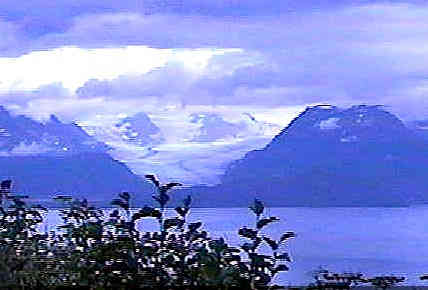 This is a large glacier looking over Kachemak Bay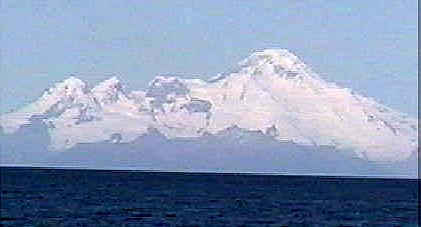 Mt. Iliamna rises across the bay on the Alaska Peninsula. It is an active volcano as is Mt.Augustine on an island in Cook Inlet.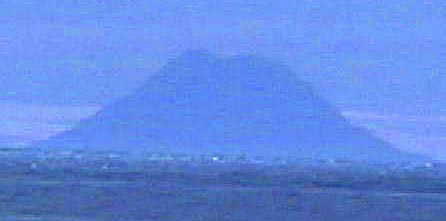 Humpback whales live and play in these waters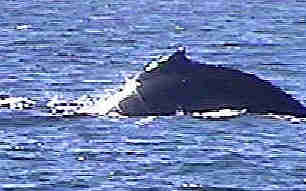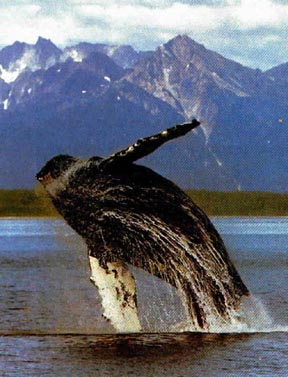 Each whale can be identified by the particular markings on it's tail!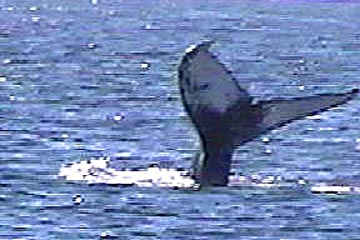 Boat trips are available to observe the sealife and take us to the island home of *SELDOVIA *across this bay. It is an old native and fishing village that is only accessible by boat or small planes.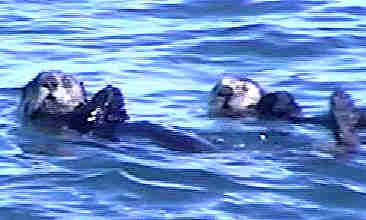 Watching the otters at play is great fun!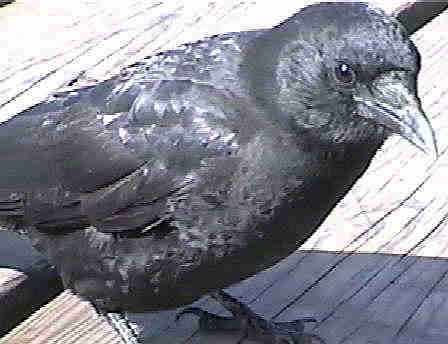 Raven will be glad to help you eat your picnic lunch!
most photos by Jan*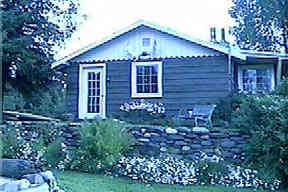 We can get a great view of Homer and the bay and wonderful,comfy quarters for the night at "Hoedel's Bed and Breakfast". This is run by an old friend of mine and I can vouch for this great experience, good people and the best accommodations.

There are good places to eat and stay here. It is an interesting town with friendly people.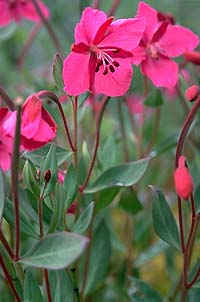 Wow! Where can we go from this "End of the road"? We can take the Alaska Ferry to Kodiak Island or we can fly over to the Alaska Peninsula into the Katmai area and on to the Aleutian Island chain.. Let's be surprised!

"You might be an Alaskan if......You measure distance in hours."
Click on the license to continue this adventure!