Volcanos of the Aleutians
and the Alaska Peninsula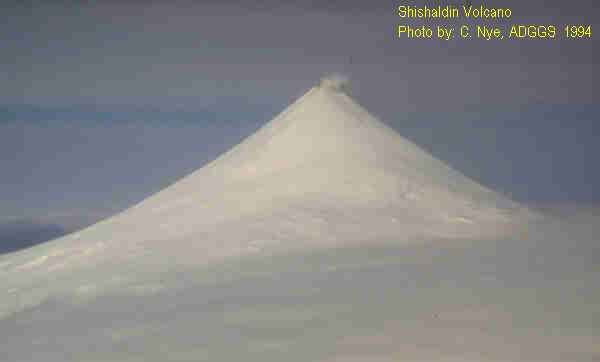 We will just fly at a good altitude on this tour! There are many active volcanos in Alaska. You may see the smoke from some.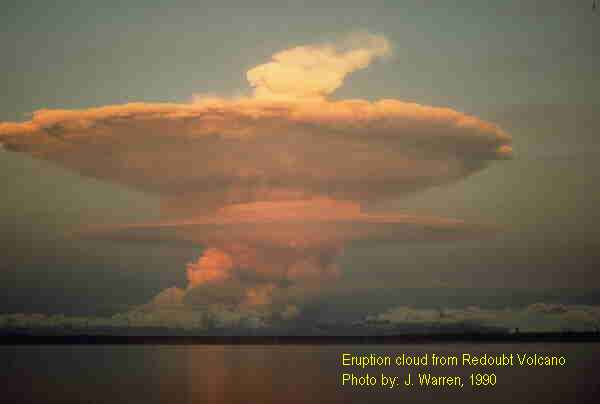 Mt. Redoubt dumped ash on Cook Inlet area in 1990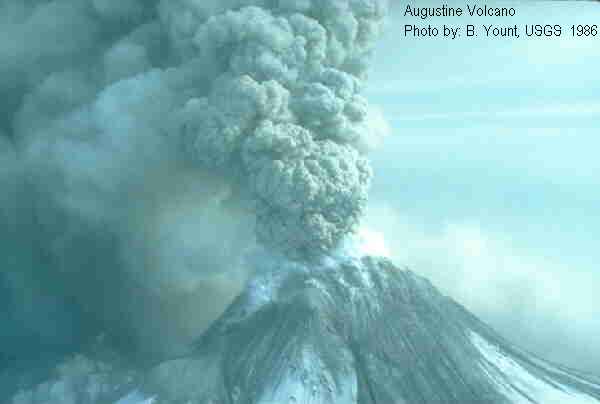 Augustine volcano lies on a small island in lower Cook Inlet and is known to throw ash on the Keni and Anchorage areas every few years.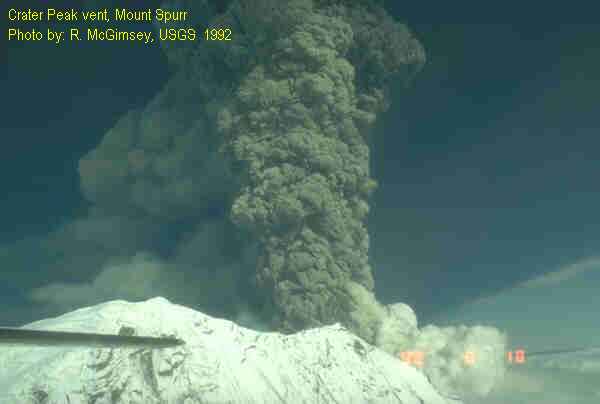 Mt. Spurr is across the Inlet 78mi.from Anchorage. This eruption in 1992 blanketed our city and area in about 5in.of heavy pumice ash.
Volcanos are awesome and beautiful. They build and rejuvinate the land. You just don't want to be too near when they do this!

Katmai volcano
is now in *Katmai National Park* [since 1980]on the Alaska Peninsula.It is approximately 290 air miles SW of Anchorage. It includes over 4 million acres of land and water.The area was established in 1918 as a National Monument. It is known to have produced one of the very largest eruptions known in world history. This is also the area of the *Katmai Bears that are a very popular tourist view as they fish for salmon in the river.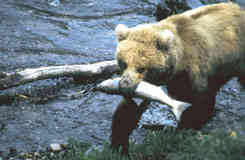 Katmai caldera is known as
"The Valley of Ten Thousand Smokes"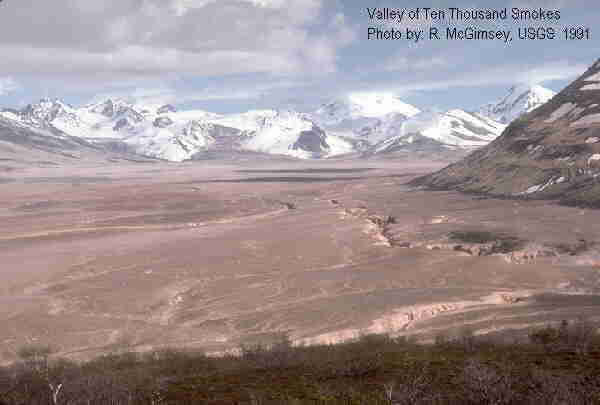 The JUNE 1912 eruption of NOVARUPTA volcano,altered the Katmai area dramatically. Severe earthquakes rocked the area for a week before Novarupta exploded with cataclysmic force. Enormous quantities of hot,glowing pumice and ash were ejected from Novarupta and nearby fissures. This material flowed over the terrain,destroying all life in it's path. Trees were snapped off and carbonized by the blasts of hot wind and gas. For several days, ash,pumice and gas were ejected and a haze DARKENED THE SKY OVER THE NORTHERN HEMISPHERE.

When it was over, more than 40 square miles(65 sq.kilometers) of lush green land lay buried beneath volcanic deposits as much as 700 feet (200 meters) deep. For two days a person could not see a lantern held at arm's length, as nearby as KODIAK,Ak. Acid rain caused clothes to disintegrate on clotheslines as far as VANCOUVER,CANADA.

The eruption was TEN TIMES more forceful than the 1980 eruption of Mt.ST.HELENS in Washington state.
Novarupta eventually became dormant. In the surrounding valleys are innumerable holes and cracks developed in the volcanic ash and deposits,permitting gas and steam from the heated ground to escape.
It was an unnamed valley when this explosion took place. The National Geographic Society began exploration of the area under direction of botanist, Dr.Robert Griggs, who named it
"The Valley of Ten Thousand Smokes"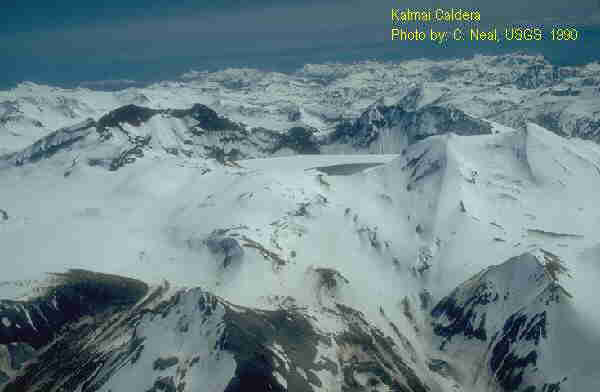 We will explore another interesting area of this Alaska Peninsula if you will
click on the flag!